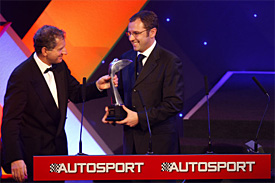 Ferrari's ongoing contribution to motor racing has been honoured at the AUTOSPORT Awards in London with the team picking up a special Gregor Grant trophy in acknowledgement of the team's 60 years in F1.
With the team naming its car the F60 in deference to its six decades in modern-era F1 competition, Ferrari team principal Stefano Domenicali was present to collect the award from Jody Scheckter, the last man to win the drivers' title in the lifetime of team founder Enzo Ferrari, in 1979.
[Image from AUTOSPORT]
The following two tabs change content below.
Hasn't missed a Grand Prix since 1989. Has a soft spot for Minardi. Tattooed with 35+ Grand Prix circuits.
Latest posts by Richard Bailey (see all)