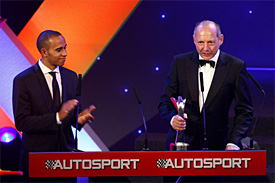 McLaren Group chairman Ron Dennis has been handed a special Gregor Grant Trophy at the AUTOSPORT Awards as recognition of his lifetime achievement in motor racing.
After a season of turmoil at McLaren, Dennis stood down as Team Principal following the Lewis Hamilton 'Lie-Gate' affair to focus on other aspects of his business, including a new McLaren road car.
Dennis was presented his trophy by 2008 Formula 1 world champion Lewis Hamilton.
"I have just been so privileged to be part of the McLaren team," Dennis said in his acceptance speech.
"The thing I am most proud of which epitomises our determination to win is the statistic that since the beginning of McLaren in 1966, we have won one in ever four races that the ream has participated in.
"That's a lot of time, a lot of race wins, it spans a host of designs, a whole range of drivers, some great management – only a part of which has involved myself. Our objective is to compete in every grand prix to the best of our ability."
Although it probably pains him to discuss it, Dennis began his motor racing career as a mechanic at the Cooper Racing Car Company in 1966, and two years later he was famously chief mechanic to Jack Brabham.
In 1971 he launched Rondel Racing, and moved through the ranks before eventually making the jump into F1 in 1980 – assuming full control of McLaren Racing in 1982.
He helped turn the team into F1's dominant force – taking multiple drivers' championship crowns with Niki Lauda, Alain Prost, Ayrton Senna, Mika Hakkinen and Lewis Hamilton.
[Image from AUTOSPORT]
The following two tabs change content below.
Hasn't missed a Grand Prix since 1989. Has a soft spot for Minardi. Tattooed with 35+ Grand Prix circuits.
Latest posts by Richard Bailey (see all)