As F1's most successful driver prepares for his return in 2010, he follows in the footsteps of several famous names who have attempted an F1 comeback.
For some, like Niki Lauda and Alain Prost, the temptation of winning again proved too big to ignore. For others, like Alan Jones and Nigel Mansell, they still felt they had more to contribute and achieve. Perhaps Michael never wanted to stay away to begin with?
Regardless, F1 has plenty of comeback stories in its history…
Jose Froilan Gonzales
Gonzales took the runner's-up spot in the 1954 World Championship, but the stocky Argentine's biggest achievement in F1 was securing Ferrari's first-ever F1 victory at Silverstone in 1951. At the end of the 1954 season, he quit F1 full-time and made on-off appearances at his home GP until 1957. He made another return to the Argentine GP in 1960 for Ferrari, and finished in 10th place.
Dan Gurney
Gurney started his F1 career with Ferrari in 1959, and switched to BRM the following year. His first F1 win came in at Rouen 1962 for Porsche, the team's sole F1 victory. He drove for Brabham between 1963-5, and took that team's first win, again at Rouen, in 1964.
In 1966, he set up his own All American Racers team, taking the beautiful Eagle Weslake to victory at the 1967 Belgian GP. In 1969, Gurney walked away from F1 to compete in the USAC and CanAm series stateside, but returned for three races with McLaren in 1970.
Niki Lauda
Having successfully helped a despairing Ferrari team turn its form around, the Austrian could have won three consecutive championships in 1975-77 were it not for his near-lethal accident at the 1967 German GP at the Nurburgring. He left Ferrari for Brabham in 1978, but in a "no-bull" manner he still practices today, he suddenly quit midway through practice at the Canadian GP and informed team owner Bernie Ecclestone that he had lost interest in F1.
After that, he concentrated on the growth of his eponymous airline, but was incredibly courted back to F1 in 1982, this time to drive for McLaren. He won twice in 1982, at Long Beach and Brands Hatch, and then spectacularly took his third world title in 1984 by beating team-mate Alain Prost by half a point! Lauda's last win came in Holland in 1985, and he retired for good at the end of the season.
Alan Jones
Having left Williams and F1 in 1981 whilst many still felt he was at his peak, the 1980 champion spent a year at home in Australia before being lured to the Arrows team early in 1983. Team boss Jackie Oliver was full of excitement, but as things turned out, Jones' stay was all too brief. At Long Beach he qualified 12th before retiring from exhaustion. Never the fittest of drivers, he clearly was not up to the rigours of F1, and left the team.
Amazingly, although nowhere near fit enough, he made another comeback with the Carl Haas-run Beatrice Lola team. He drove several races in 1985 in a rubbish car (above) before doing a full season in 1986, scoring just 4 points. At this point he was too old, grey and significantly portly to be F1 material any more. Eventually he saw the light as well, and went back to Australia to race touring cars.
Alain Prost
Prost was a championship contender in every season in the 1980s, bar his debut season for McLaren in 1980. Having lost championship opportunities with Renault (1981-3) and McLaren (1984, to Lauda), he finally took his maiden crown in 1985 and followed this up in 1986. Still with McLaren, he took a third – albeit controversial – title against team-mate Ayrton Senna in 1989.
His fall-out with the Brazilian prompted his switch to Ferrari in 1990, and he nearly took the title only to be deliberately punted off the circuit by Senna at Suzuka. The 1991 Ferrari a poor third to the dominant McLaren and Williams, and he was sacked before the season-ending Australian GP after likening it to "a truck".
With no top-line seats available for 1992, he took a sabbatical and joined Williams in 1993, dominantly taking a fourth title before retiring for good.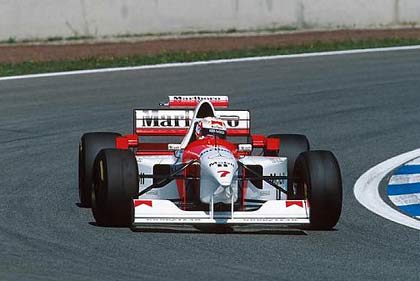 Nigel Mansell
It could be safely argued that there are no bigger egomaniacs in F1 than Nigel Mansell. The man who thrashed all comers in the 1992 F1 season in what was clearly the most superior car on the grid, and then proceeded to moan every which way that his title victory was difficult. The man who couldn't handle Prost as a team-mate at Ferrari, and blamed him for unsettling the dynamics of the team. The man who got jack of IndyCars (no doubt due to the fact he was no longer winning) and came back to F1 in 1994 as a stand-in driver at Williams, boasting he could beat every driver, and then didn't.
With Williams not having a seat available for him in 1995, Mansell, now 41, moved to McLaren in the hope that its pedigree and Mercedes powerplant  would give the Williams and Benetton teams a challenge.
The signs were bad from the start: Mansell was too fat to fit in the car! The team rebuilt a larger monocoque for Nigel, and he returned for the third round at Imola, finishing 10th and a lap down (team-mate Mika Hakkinen was 5th). He raced again at Spain and ran midfield before skating through the gravel trap and pulling into the pits to retire for good.
The ego came out again when he attacked the team for producing a poor car; team boss Ron Dennis returned serve and called Nigel "unmotivated". It was a messy end to his career, and he should have hung up the keys much earlier.
Jacques Villeneuve
Villeneuve joined Williams in 1996 after dominating the IndyCar scene, and nearly won his debut race in Melbourne. With four victories in his first season and a further seven in 1997, he took the championship in his second year.
He team up with his manager Craig Pollock's BAR team in 1999 and laboured away until 2003 without the results he needed. With David Richards taking over from Pollock, Villeneuve saw the light and quit before season's end.
His career looked to be over until he was brought into Renault to replace Jarno Trulli for the final three races of 2004. In an unfamiliar car and not fully fit, his performance wasn't anything special, but somehow he was signed to Sauber for 2005, and then kept on for 2006 when BMW bought the outfit (in spite of rumoured reluctance on the board's part). He was turfed midway through the season, it being almost 10 years since his last F1 win.
Jacques is rumoured to be making another comeback attempt for the 2010 season and was widely tipped to join Lotus. With their drivers announced, it seems F1 may slip by Jacques this time…
The following two tabs change content below.
Hasn't missed a Grand Prix since 1989. Has a soft spot for Minardi. Tattooed with 35+ Grand Prix circuits.
Latest posts by Richard Bailey (see all)