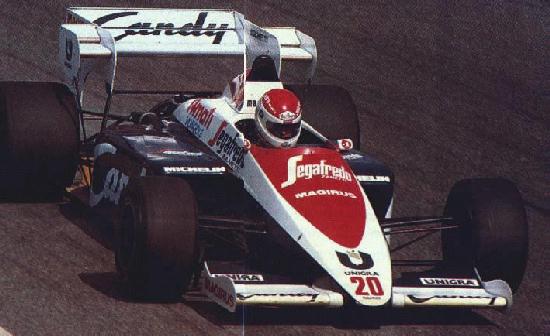 Two-time Motorcycle Grand Prix champion Johnny Cecotto turns 54 today!
Why would we be profiling this Venezuelan bike rider, I hear you ask? Well, for the anoraks in the readership, you may know that Cecotto also competed in F1 for two seasons, with Theodore (1983) and Toleman (1984).
In a 48-race career spanning 1975-80, Cecotto took 14 wins and won the 350cc Motorcycle World Championship in 1975 and the 750cc class World Championship in 1978.
Aged 25 in 1981, Cecotto decided to switched to car racing and signed up with the Minardi team in Formula 2. He proved equally as quick on four wheels as he did on two, and found himself (unsuccessfully) negotiating a deal to join the Fittipaldi F1 team for 1982. He stayed in F2 for another season – this time being engineered by one very talented Adrian Newey – and took the runner's-up place in the championship.
He progressed to F1 with Theodore, and despite scoring a point with 6th at the US West GP, he didn't make much of an impression in his first season and failed qualify on four separate occasions.
He seemed, however, to have done enough to attract Toleman's attention was was signed for the 1984 season alongside someone called Ayrton Senna. Finding it ever-difficult to keep pace with the brilliant Brazilian, Cecotto overdid it in qualifying for the British GP and slammed head-on at over 100mph into the Brands Hatch guadrails, moving the barriers back five feet and breaking his ankles and dislocating a knee in the impact. His F1 career was finished.
After recovering, he returned to touring cars in the mid 1980s, and began rebuilding his career with Volvo in 1986. He switched to BMW in 1987, winning the Bathurst 1000km. He won the 1989 Italian Touring Car Championship, and competed in the DTM from 1988-92, being robbed of the 1990 title when he was crashed into by the then-unknown Michael Schumacher, competing as a guest for Mercedes in the final round!
He then won the 1994 and 1998 German Super Tourenwagen Cup Championship for BMW, and the 2001 and 2002 German V8Star Series Championships for Opel.
Cecotto now devotes his time to supporting the racing career of his son, Johnny Cecotto Jr, who is currently competing in the GP2 Asia Series.
We wish Johnny a happy birthday today!
The following two tabs change content below.
Hasn't missed a Grand Prix since 1989. Has a soft spot for Minardi. Tattooed with 35+ Grand Prix circuits.
Latest posts by Richard Bailey (see all)