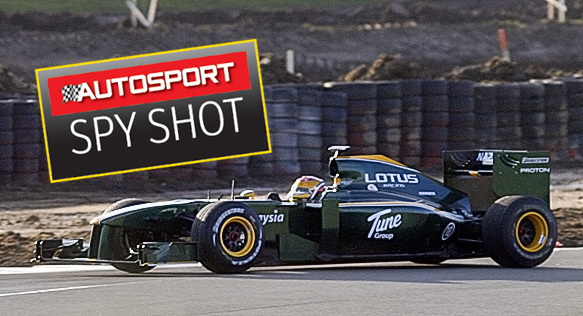 Lotus unveiled its 2010 challenger and hit the race track on Tuesday as test driver Fairuz Fauzy completed a secret shakedown at Silverstone.
As AUTOSPORT's spy shot of the new car reveals, the car ran in the traiditional green and yellow colour combination that was synonymous with the team's 1950s and 1960s pre-sponsorship decal.
It remains to be seen if the team will retain this colour combination for the season.
The successful outing for the car was a proud moment for the team, which only had its entry for the 2010 season confirmed in September. It is a testament to the team's efforts that they have been able to design and produce the car in such a short timeframe.
Tony Fernandes (Team Principal) was certainly a proud and emotional man when he recognised this achievement. "Shakedown started. Quite a few tears," he wrote on his official Twitter feed.
Having completed the first engine fire-up of the car on Saturday – 6 days ahead of schedule – the team now heads to its official launch in London on Friday.
The team's first proper test outing will occur at next week's third pre-season F1 test at Jerez.
We can't wait to see the return of Lotus (admittedly, largely in name only) to the F1 circus!
[Image via AUTOSPORT]
The following two tabs change content below.
Hasn't missed a Grand Prix since 1989. Has a soft spot for Minardi. Tattooed with 35+ Grand Prix circuits.
Latest posts by Richard Bailey (see all)