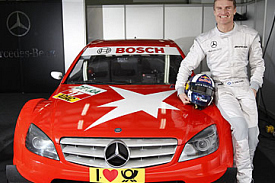 David Coulthard has had a test drive in a Mercedes DTM car this week at Alcazaba in southern Spain.
The 38-year-old Scot retired from Formula 1 at the end of the 2008 season and now occupies a role with the BBC as a Formula 1 pundit alongside former team boss Eddie Jordan. The 13-time Grand Prix winner, however, has made no secret of his interest in racing elsewhere in the future.
Former F1 grandees Mika Häkkinen, Jean Alesi and Heinz-Harald Frentzen successfully competed in the DTM after they retired from F1, while Ralf Schumacher is currently driving rather unsuccessfully for Mercedes in the series.
Kimi Raikkonen and Valentino Rossi have also both tested DTM machinery in the past, and the series has stated that Coulthard's test "does not allow direct conclusions about a possible commitment for the 2010 season".
Which means we should be waiting for an announcement anytime soon…!
The following two tabs change content below.
Hasn't missed a Grand Prix since 1989. Has a soft spot for Minardi. Tattooed with 35+ Grand Prix circuits.
Latest posts by Richard Bailey (see all)