Chris Bristow (left) and Allan Stacey (right) are the only two drivers to have been killed in the same race on the same day, considered to be the blackest in the sport's history.
June 19 remains one of the blackest days in the history of Formula 1, it being the only time in the sport's history where two drivers were killed in the same race.
Alan Stacey and Chris Bristow died competing in the 1960 Belgian Grand Prix. The race also saw two other drivers – Stirling Moss and Mike Taylor – badly injured in separate crashes.
Bristow was considered by many to be a future F1 World Champion, although he had equally as many detractors who felt he was too wild.
But what everyone agreed was that Bristow was very, very quick – sadly, we would be robbed of seeing just what he was really capable of achieving in a Formula 1 career that lasted all of four races.
Born in 1937 in South London, he started out racing in 1956 with the support of his father, driving an MG Special to victory at Crystal Palace. He moved up to an 1100cc Cooper sports car for 1957, and graduated into the quicker – but less reliable – Elva for 1958.
His efforts brought him to the attention of the BRP team, and he was hired to race their Formula 2 Cooper-Bogward and Cooper Monaco sports cars in 1959.
His F1 debut came at the 1959 British Grand Prix at Aintree. He finished tenth overall and first in the F2 class after qualifying an impressive sixteenth-fastest of the thirty entrants in the field.
With the team rebranded as Yeoman Credit Racing, Bristow was brought on to pilot one of their Cooper T51 challengers for the 1960 Grand Prix season. Sadly, team-mate Harry Schell was killed in the pre-season, and the young Bristow found himself promoted to the role of team leader.
He tackled this with plenty of enthusiasm, but it was while dicing with Willy Mairesse's Ferrari at Spa that he lost control of his Cooper, slid into some trackside fencing and was decapitated in a truly shocking accident.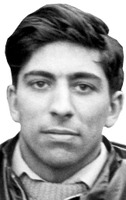 Born in 1933 in Essex, Stacey made his racing debut at the comparatively late age of 21. He started out in club racing – he almost exclusively raced his own Lotus XI sports car for the first two years – and won seven times in 1956 before accepting an invitation to join the works Lotus team in 1957.
Stacey had an unusual handicap in that he raced with an artificial lower right leg. When not he wasn't tormenting hotel chambermaids by hanging the prosthetic limb (complete with shoe and sock on various pieces of furniture, he'd also be trying to trick circuit officials that he was fully fit for racing.
Yet this proved no obstacle to his ability to race and be competitive, and there's no doubt that it did if the likes of Colin Chapman was prepared to sign him full-time to his sports car team for 1958.
After winning at Brands Hatch and Crystal Palace, Stacey made his F1 championship debut at Silverstone that year, but the next year yielded just two more F1 outings before he started the 1960 season as a full-time driver.
As was typical of that era's Lotus F1 cars, reliability was almost non-existent, and Stacey retired from the first three Grands Prix with mechanical issues.
Sadly for Stacey, a promising motorsport career would be cut short at the fourth championship round at Spa-Francorchamps. Running in sixth place during the race, the luckless Stacy was hit full in the face by a bird as he approached the Burneville right-hander at over 190km/h. He veered off the circuit and climbed an embankment, before ploughing through thick hedges and toppling into a field.
Stacey's accident occurred just minutes – and a few hundred metres – after the fatal accident that befell his compatriot Chris Bristow, who was just a year older than Stacey.
| | |
| --- | --- |
| | [Images via GH54, The Cahier Archive] |
The following two tabs change content below.
Hasn't missed a Grand Prix since 1989. Has a soft spot for Minardi. Tattooed with 35+ Grand Prix circuits.
Latest posts by Richard Bailey (see all)